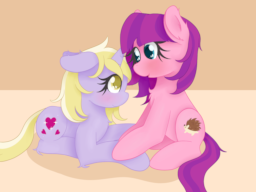 Source
Every year, Dinky is part of a big Hearth's Warming gathering, and this year she impulsively decided to invite Lily Longsocks, her fillyfriend. Of course Derpy says yes; the more ponies, the merrier.
The only problem is, Dinky hasn't mentioned that she and Lily are more than just friends, and she's worried what Derpy might think.
---
This was written for Emotion Nexus as a part of Jinglemas 2020! For more information about Jinglemas, checkout our group!
Chapters (2)