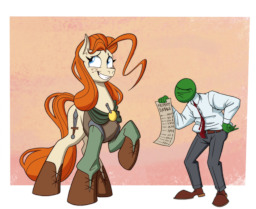 Throughout his time in Equestria, Anon has seen a great many things - that being said, he's in for a first. The strange behemoth is as beautiful as she is baffling, leaving the man in a bit of a pickle. What does one do when faced with a literal giant of a pony?
Artwork by AnonTheAnon (Twitter @RealAnonTheAnon)
Big shout-out to MiddyNight (Twitter @Middynight_) for help with the Scottish accent for her!
If you want to help support me, I have a Tip-Jar/Patreon HERE
Chapters (5)