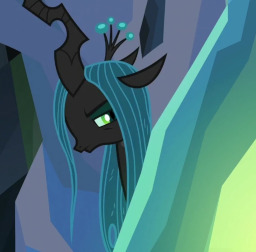 This story is a sequel to Bed Bug
---
It was two months ago that you and Chrysalis struck a deal. Now, the two of you live together in your Ponyville home, under the condition that you share your love with the ex-queen while she... doesn't do villain stuff. You've grown quite close in that time, but despite getting her to slowly come out of her shell around you, she still refuses to leave the house.
So when you wake up one day to discover that she has contracted some sort of illness, it comes as a bit of a shock. She has apparently never been sick before, and you don't know enough about changelings to help her yourself. It seems like the only solution is to find somecreature who does.
However, the past is not so easily forgotten. How can you get help when the Changeling Kingdom wants nothing to do with her? When the wounds that she caused run so deep that even children bear their scars? When Chrysalis herself is so stubborn, so prideful, that she is unwilling to admit her fault in any of it?
When is a crime too terrible to forgive?
Chapters (1)