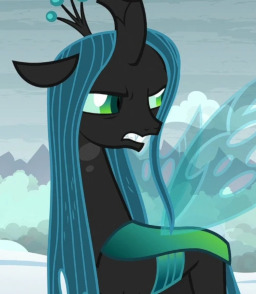 This story is a sequel to Lovesickness
---
Following the lovesickness debacle, your relationship with Chrysalis has been strained. Your deal still stands, but... things are different now. And with some troubling rumors going around about your favorite bug, her motivation to leave the house has only gone down.
However, that doesn't mean you've given up on her. You still believe in her ability to do the right thing, and it is that belief that caused you to get into an altercation with some of your closest friends. But when that altercation escalates as a result of Chrysalis's actions, you find yourself taking on a serious injury that could very well be fatal.
It comes as a shock to everyone when Chrysalis scoops you up and makes a break for it. Although her motivations are unknown, it seems that she is dead set on keeping you away from the ponies that could help you.
But with no friends to assist her, where can Chrysalis even run to, and what could she possibly be planning?
Chapters (7)