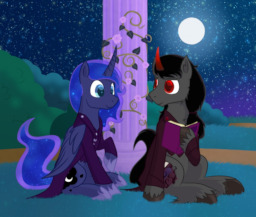 Source
Luna is many things: a goddess, princess, and wife. What happens when she has a secret that threatens to unravel every one of those things? Her secret weighs heavily upon her, but can she bear to tell it, knowing it is the only thing that will set her free?
Sombra is caught up in all that reformation entails. His wife's turmoil isn't lost on him, but he has yet to piece together just what it is that has her waning.
---
The third place winner of the Right Back At It Again contest. Highly Recommended in PresentPerfect's spoiler-filled review! Also a submission for the Pride and Positivity charity event. The cover art is a gift drawn by MayhemMoth. The new version has been edited and preread by Cynewulf.
Chapters (6)