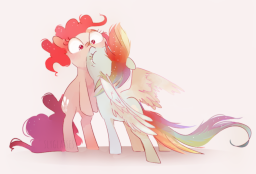 Source
Rainbow's happy with her newfound relationship with Pinkie Pie—excited, even! What she's not excited about, however, is being the one to decide on where their first date is. She's not an expert in the whole romance thing, but she wants to impress Pinkie and time's running out! Maybe her friends can help her...
Mentioned relationships include Fluttercord and Rarijack. Don't worry, though, this is about PinkieDash, my friends.
Written for the Right Back at It Again! contest.
Chapters (1)