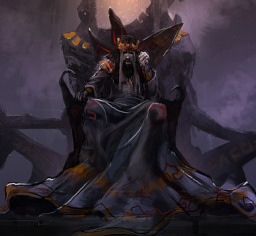 This story is a sequel to The Great Slave King
---
It has been nearly five hundred years since the events chronicled in the Book of Earth: The Great Slave King transpired. Since then, the man made a god has been busy trying to introduce the technology from the land of his birth to the magical realm of Equestria. As the years passed, the Lord of Earth, no longer a godling, has grown into his powers and has become a force to be reckoned with. Under the tutelage of the Ladies of Air and Summer, he has become as great as any of the other Prime Elemental deities.
With the assistance of his servants, Scourge the Hunter, founder and master of the Order of the Shadow; Arch Duke Fifi le Yipyap, once the Slave King's master now turned slave, and regent of the Domain of Earth; and Nightmare, the Slave King's first creation and constant companion, he has turned the wild and untamed lands of his realm into a wealthy and prosperous nation.
Now approaching his five hundredth year as the Lord of Earth, the Slave King is about to meet the greatest threat he has ever faced. Once again, the Slave King must stand alone against a unified pantheon plotting his downfall and eventual reenslavement. When presented with the pantheon's final ultimatum, will he stand his ground and fight, capitulate to their many demands, or twist their schemes against them?
Look inside and see gentlereader.
Book two of four, book one can be found at The Great Slave King
Part two can be found at The Book of Water: The Heart of Winter
TV Tropes Page: The Great Slave King: Special thanks goes to gentlereader Abstract Indigo
True cover art is forthcoming.
Chapters (23)