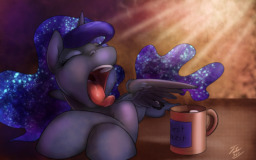 Source
Princess Luna recalled her life with the company of her favorite treat: coffee. She drank it whenever something bothered her, like the looming threat of day court in the morning.
Only, she wished it was just that.
---
Pre-read by Not Enough Coffee.
A rework of the 2014 fanfic, since the original account that the story was ported to was deleted by accident. Check this blog for more information.
Sad tag for the second chapter.
Chapters (2)