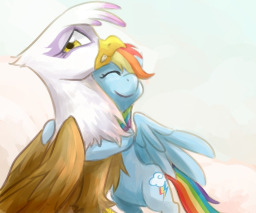 Source
After Gilda's last encounter with Rainbow Dash and her friends, the griffon hadn't heard anything from her pony friend for a long time. It made Gilda think that Rainbow Dash forgot about her. Fortunately for Gilda, Rainbow Dash was hard-headed. Unfortunately for Gilda, Rainbow Dash was also high-strung and so stressed out of her mind that her train of thought was completely out of whack. With a few letters detailing Rainbow Dash's situation among other things, will Gilda be able to help salvage her friend's relationship? Or will Rainbow Dash leave Gilda's place as a husk of who she once was?
Gilda couldn't imagine Rainbow Dash failing. She'd do anything in her power to fix this, even if it meant admitting that she liked Rainbow Dash too.
Wait, what?
---
Submission to the RIGHT BACK AT IT AGAIN! contest under the prompt of 'first breakup'. Judges who take part in the contest will not have their stories counted towards placement. Just fyi.
Edited by: Muggonny, Not Enough Coffee, and Jack of a Few Trades.
Cover Art by: norang94.
Pre-read by: FamousLastWords.
Content warnings: a high-stress situation that involves a bit of cheating, some sexual references, and plenty of shipping moments of between a pony and a birb.
Chapters (12)