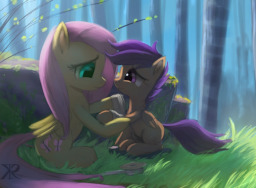 Source
This story is a sequel to But I'm here for you now
---
Scootaloo's been having the time of her life since she's been back with her mother, Fluttershy. Life has been great, but as time progresses Scootaloo has been wanting to ask her mother a very important question: who in Equestria is her father?
((The sequel to 'But I'm here for you now' is finally here. Took me long enough. lol))
Warning: rated teen for a bit of language and a small portion of violence.
((Second story to be featured. I can't believe it. :) ))
Chapters (17)