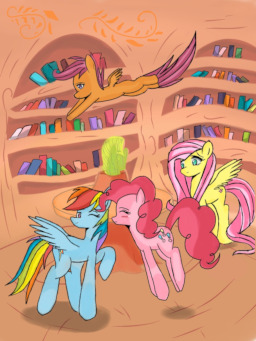 Source
Fluttershy has been best friends with Rainbow Dash since Flight Camp. It's quite a strange friendship, as no two ponies could be more different. However, what began their friendship is one very, very big thing they have in common: they're both fillyfoolers.
Of course, they're not girlfriends or anything. After all, Rainbow Dash is too adventurous and AWESOME to be tied down or any other mushy gunk like that. I mean, sure they had a sort-of friends-with-benefits thing going on when they lived in Cloudsdale, but that was because they were sort of... well, lonely. By all means the cute, awesome Rainbow Dash should have had tons of friends, but Pegasi aren't terribly tolerant of fillyfoolers, so naturally Fluttershy and Gilda were her only friends, and she theirs. Where else were any of them supposed to get any flank, or for that matter any sort of affection at all?
Of course, Rainbow Dash and Fluttershy stopped sleeping together when they moved to Ponyville to escape all that; nobody knows they're fillyfoolers and they have more friends here, so they're not soul-crushingly lonely anymore. However, Fluttershy continues to long for Rainbow, and not just for the occasional fun night; she's in love with Rainbow, and ever since they were fillies she's wanted to be her full-fledged girlfriend.
However, Fluttershy knows Rainbow isn't interested in anything like that and so hasn't told her the way she feels. However, Rainbow decides to come out to their other friends, and at that moment she's up for grabs; Fluttershy finds herself rivaling Scootaloo, Gilda, and Pinkie Pie for Rainbow's affections. Will Fluttershy find the courage to confess her feelings to Rainbow before it's too late?
Now with a TVTropes page!
The cover art was provided by my wonderful and talented friend, PastelDemon.
Chapters (12)