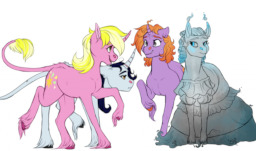 Source
Eerie Lantern would be happy to go through the rest of her life without seeing a living soul... after all, she can see ghosts. What could the living have to offer but endless heaps of trouble? Then one fateful evening, one of her worst fears comes true:
A pony wants to be her friend!
Moonlight Raven is a goth pony who doesn't shy away from the dark and grim. Her sister, Sunshine Smiles, is equally unflappable in her optimistic joy. Together, they are easily the most terrifying thing Eerie has ever had to face.
So how can she get rid of them, and ensure nopony else ever bothers her again?
Uh... preferably without murder? Sheesh! As if she needed to be haunted by anymore disgruntled murder victims...
---
Art by the very talented Lola Dotz! Follow her on FimFiction and DeviantArt!
Check out my Spotify playlist for the story.
Listen to Eerie Lantern's original theme on Soundcloud.
Chapters (5)