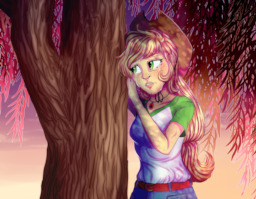 Source
Applejack thrives on being busy. People need her, and she cannot afford to fall apart. Her feelings are not the priority—she doesn't want them to be.
But when an old love comes calling, Applejack finds herself on the precipice of finally saying what she's always wanted to say...
And hearing what she never wanted to hear.
---
A single day in AJ's life, and a one-shot spin-off of What They Expect to Give, my mature AU EqG romance drama. Takes place a few months before. You don't need to read the other story to read this, but it does make the context clearer.
Featured on Equestria Daily 1/18/2020
Editing provided by Typogliphic.
Art by Lola Dotz. Follow her on FimFiction and DeviantArt.
Contains some self-harm.
Chapters (1)