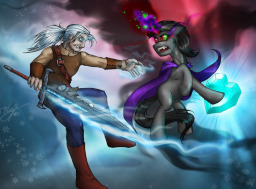 This story is a sequel to In Want for a Wand
---
On his search for Twilight Sparkle, Darren Houndslayer discovers King Sombra's horn and unwittingly resurrects the tyrant. As Sombra, confused and weakened, confronts him, Darren begins to wonder if it might be better to reform an evil king instead of killing him for good. Meanwhile, a young colt discovers dark powers that are disturbingly alike to Sombra's, enabling him to lay waste to the entire Crystal Empire...
4th installment of the Twilight Goes To Dalaran series.
Knowledge of World of Warcraft is not necessary to understand the story.
Chapters (3)