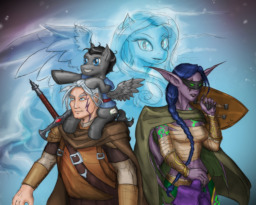 This story is a sequel to Knights of Ice and Crystal
---
Danger is looming on the Other Side! The Trolls of the Darkspear Tribe want to summon the Loa of the Grave to find answers. But instead of their Loa, they get the spirit of a pegasus, along with Former Death Knight Darren Houndslayer and his little pony protegé Eclipse. As a human, Darren is less than welcome in the lands of the Horde - while Eclipse, cut off from his family in the Crystal Empire, is trying not to succumb to the dark powers inside of him. They rush off to safer shores - but how safe are those really? Meanwhile, Twilight and her friends frantically look for a way to bring Darren, Eclipse and Levinia back home...
---
5th installment of the Twilight Goes to Dalaran series (but you can start here if you want to).
Knowledge of World of Warcraft is not necessary to understand the story.
Chapters (24)