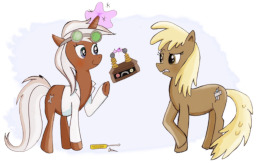 Source
In a hamlet near Canterlot, a mismatched pair of ponies share a loft. Silver Spanner is an eccentric unicorn who makes her living repairing appliances. Mjolna is a foreign earth pony from the far north who wishes to train with the Royal Guard. Despite sharing so little in common, the two manage to find ways to relate to each other...and get into trouble, of course.
These are lighthearted drabbles about two mare pals having fun, trying to survive, and pursuing their dreams!
Cover art by the talented Woolly. Pre-reading/editing for the first four parts provided by Ceffyl Dwr, Danthebronyman, and QueenMoriarty.
Chapters (7)