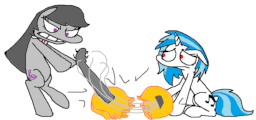 Source
Octavia wakes up one morning to find that she can't play any of her instruments at all -- It's almost like her cello wasn't meant to be played with hooves in the first place! Together with Vinyl Scratch they must figure out what the hay is going on around here.
Or maybe they'll just end up breaking Octavia's cello.
-----
Art by AspergerGoodness.
Chapters (1)