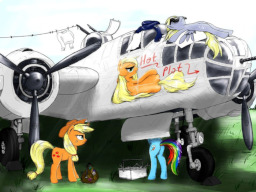 Source
Applejack expected a heartfelt reunion when she went to visit Dash. She expected to hear stores of how the fastest flier in all of Equestria was faring after becoming the poster pony of the first major war in hundreds of years.
She didn't expect to find herself painted onto the side of an airplane.
Inspired by the cover picture (link in the source).
Chapters (1)