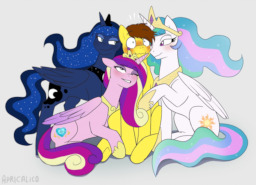 Baked Bean, an aspiring writer of questionable skill, has come across the perfect source of inspiration: the Castle of the Two Sisters. All it will take is a quick trip through the Everfree Forest, and a new world of potential writing prompts will be his for the taking.
Once there, however, he finds there's more to the Castle—and the old legends surrounding it—than he ever imagined, and an ancient law will force him to mate with all of the Royal Princesses...
...whether he likes it or not.
---
This story is an alternate take on No Nose Knows, so expect plenty of polygamous shenanigans.
Sex tag is for references. Ye be warned.
---
Edited by Zen and Ponies, Sipioc, Georg, and Spartanpony007!
Cover art commissioned by an anonymous fan and drawn by Apricalico!
Much thanks to Sipioc for the original cover art!
Chapters (7)