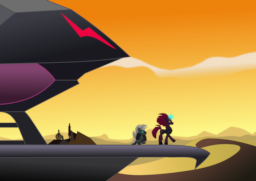 Tempest Shadow finds the path of reformation is not easy for her... it just doesn't feel right. Then she learns of a disquieting trade going on in the Southlands... and then a close friend is ponynapped... and she discovers exactly the kind of pony she is meant to be.
Sequel to MLP: The Movie, covering Tempest's reformation and also tying up loose ends in the movie and prequel comic.
User Spaniard Kiwi was kind enough to post a Spanish translation over on DeviantArt -- check it out!
For more fun with Tempest Shadow, see the Nightmare Night story,
Nightmare Fight.
This story's timeline is also continued into Season 8 by Twilight's Pirate School.
Chapters (20)