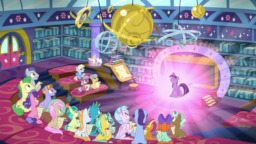 If you should see a lavender airship in your sky, hurry to get on board. You don't want to miss being part of Equestria's future, aboard Princess Twilight's School of Friendship...
Princess Twilight's Friendship School proposal has been denied even preliminary approval by the EEA. Fortunately Tempest Shadow and her fleet of warships are back in town, and Tempest has a somewhat unorthodox idea for how Twilight can get around this. Plus, we find out more about how each of the Young Six came to be enrolled at the School. And Starlight ends up with a much better job...
AU reboot of the start of season 8, and sequel to Reformation... It's a Pony Thing.
Chapters (18)