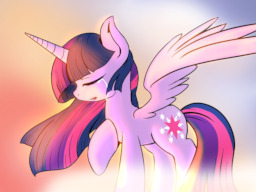 Source
From the day of her birth, an unknown guardian has watch over Twilight Sparkle. He has secretly protected her, assisted her, and been there for almost every significant event in her life, watching from the shadows as she grew into the wonderful and loved Princess of Friendship.
And yet, trouble is brewing, and with Twilight's life is now in danger, her unknown guardian must come out of the shadows and do all that he can to protect her, even if it breaks both their hearts in the process.
But just who is this pony? Why does he have such an interest in the Princess of Friendship? Why does he seek to protect her even at the cost of her happiness and his own?
And what is the force that threatens the young mare's life?
__________________________________________________________________________________________________________
This story was written in November 2017 as part of Writers Challenge put forth on EQD. It only took me until now to actually edit it fully and start publishing it, so enjoy

Cover art belongs to ShujiWakahisaa. Thank you for letting me use this art

Chapters (11)