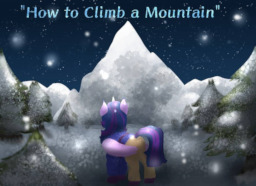 At Celestia's advice, Twilight sets out to the frozen north and the mysterious mountain know as Celeste. Her goal? To climb to the summit of said mountain. Not for any reward or as some sort of test, but because Celestia believes it will help Twilight develop as a princess.
But this will be no easy feat. Celeste is a mountain that, for reasons still unknown, contains a unique magic all its own, one that interferes with any other form of magic brought within its boarders. Not even alicorns are immune to this mysterious power. And while Twilight may have the tools necessary to climb said mountain, getting to the top will not be easy in the slightest.
Will Twilight succeed in her climb? Or be forced to turn back by the unusual occurrences that plague her journey?
_______________________________________________________
This story takes place in the 'How to...' Universe before the events of 'How to Date a Princess'.
This story is based on the stellar game 'Celeste' that I recommend to everyone who reads this.
Cover art was created by MiyaTheGoldenFlower on DeviantArt as a commission.
Chapters (2)