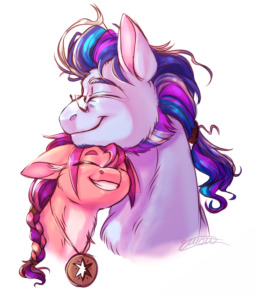 Source
Two weeks have passed since magic has returned to Equestria. In those two weeks, the ponies of Bridlewood, Maretime Bay, and Zephyr Heights have begun to merge, traveling to one another's homes and exploring the new world that Sunny Starscout and her friends have created. To learn about their magic and how the other races have lived their lives all this time.
It is a new age, one that a lone unicorn Shining Star has been trying to achieve for most of her life. One that she and her husband Argyle had worked to achieve for as long as they had been together. It is a dream come true, one that their own daughter had a hoof in creating.
Now, Shining Star travels to Maretime Bay in the hopes of finally meeting the daughter she has been forced to watch grow up from afar for so many years.
======================================================================================
Behold, my first G5 story is now ready to go! All based on an idea I had revolving around the fact that we have yet to meet Sunny's mother. Also, a quick shout out to Dr.Wolf over on Youtube for helping to encourage this idea in his own video detailing who Sunny's mother might have been.
Please enjoy

New Discord Link: https://discord.gg/Wt3HqMRrk4
Cover art belongs to NotSoSmartSmarty over on Deviantart: https://www.deviantart.com/notsosmartsmarty/art/Happy-Fathers-Day-919811663
Update: Featured on 8/14/2022! Still amazing no matter how many times it happens! Thank you everyone who reads my work!
Chapters (1)