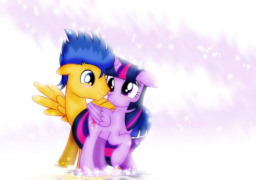 Source
This story is a sequel to How to Climb a Mountain
---
Twilight has a problem. After a noble by the name of Duke Bull Horn comes to her castle demanding that she take his son to the Gala as a date, Twilight loses her temper and lets it slip that she already has a date. Fearing the criticism she will get it she indeed does show up without a date, Spike suggest that she take the Captain of her recently formed guard, Flash Sentry. While Twilight initially rejects Spike's idea, Flash himself willing volunteers to take her so that she can avoid the criticism that the Duke might pin on her should she show up alone.
Will the Gala be better than the first one Twilight attended, and will this date become something more? Or will the nobles ruin everything and cause the night to go down in flames?
Brief disclamer: this story is meant to be a prequel to my first story "Gone, But Not Forgotten," though I only realized it could be prequel about 4000 words into typing it, so excuse if it somehow has minor inconsistencies.
MAJOR UPDATE: New rewrite version out and ready for reading. Same story, but BETTER! Also, NOW WITH SEQUEL: How to Propose to a Princess
ALSO ALSO: Now with PREQUEL, How to Climb a Mountain. It never ends. Though it should be noted that the prequel is not needed to enjoy this story. (1/14/2020)
Alterative tags to label the story:
Beautiful Twilight, Playful Banter, Rarity Teasing Twilight, Annoying Nobles, Spike's Idea, non-chaotic Discord, Hungry Twilight, Silly Flash, Celestia playfully teasing Twilight, Luna Threatening Flash, Rarity Threatening Flash, Dancing, romantic strolls, interruption of romantic strolls, more chaotic Discord, the plot demands things, questioning all of reality Pinkie and Discord Tag-Team, moonlight dancing, and kissing.
Image belongs to the very talented jucamovi1992 on deviantart.
Now translated into Chinese: https://fimtale.com/t/32563
Chapters (2)