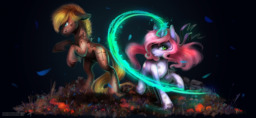 Source
Vermilion didn't join the Guard to be a hero. He just wanted to escape the farm and his old, boring life.
But now it seems he may have no choice – his unit is being sent to Hollow Shades, a tiny hamlet hidden in the depths of an endless forest, to fight monsters on behalf of Luna and Celestia. When the mission turns into a disaster and the town is lost, Vermilion finds himself at the forefront of an unexpected war, with all of Equestria at stake.
A new dark age has begun. Heroes must be found to guard the flickering lights of civilization. And Vermilion and his friends will discover that monsters are the least of their worries.
---
Set in the years before Nightmare Moon's banishment, The World is Filled with Monsters follows a young hero and his friends as they struggle to protect a newfound nation – and discover the cost of greatness.
---
Art gallery:
Marvelous Needle (Zephyr's spear)
Chapters (31)