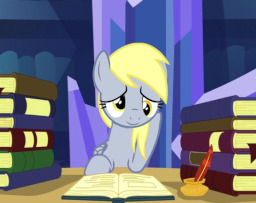 Ditzy Doo, known to some as "Derpy", is not a "smart" pony. In fact, she's developmentally disabled, and every day is a struggle to just get by. But despite all that, she loves life and especially loves stories — loves reading them and loves making them up. More than anything else, she wants to learn to write, and share her stories with the world. When Princess Twilight discovers an intelligence-enhancement spell that could enable her to learn faster and more effectively, a spell that could make her "smart", Ditzy is overjoyed to be the first pony to have her intelligence enhanced. But not everything turns out as planned, and unforeseen consequences of the complicated magic prove to be a greater blessing, and a greater curse, than anypony could have expected.
An homage to Daniel Keyes' short story "Flowers For Algernon", told in epistolary style.
Many thanks to A British Gentleman and King Moriarty for their helpful editing recommendations.
Thanks to deadrose for the cover image.
Chapters (58)