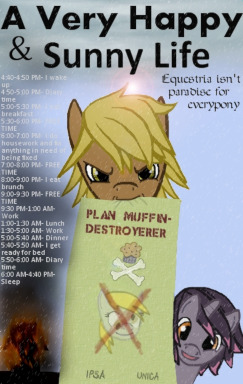 The ponies of Ponyville are typically noted to be the happiest, most well adjusted, and harmonious beings in all of Equestria. Whether this is because of their innate goodness, their close proximity to Canterlot, the continued presence of the Elements of Harmony, or just sheer happenstance, it is not uncommon for other towns to grow jealous of the pillar of perfection that the happy community appears to be.
However, whenever night falls in Ponyville, a different side of the town is exposed. Where the day is dominated by the bustling of ponies throughout the town, the night is occupied by only one being and he is something entirely different than what you would expect to find in the 'paradise'. Bitter, cruel, rude, and sociopathic, this pony is an example of what happens when harmony fails.
Though his life had always been quiet, monotonous, and unimportant, everything changed as the walls of his sanctuary were burnt down thanks to a hapless accident. No longer hidden away from innocent eyes, Ponyville became a stage of sorts as the stallion was forced to start his life anew.
Take a moment and clear your calendar before you decide to burden yourself with entries from the diary of this stallion. Entries that detail the story of the happiest pony in all of Equestria, Ipsa Unica.
----------------
Cover art by Ghost Townsend
Chapters (70)