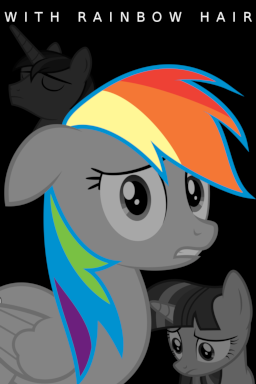 Partially mirrored from The NP FanFiction Archive.
[Currently attempting a possible revival of this story after five years. Since I think I finally have an idea of where I want it to go. I'd like to issue a personal apology for taking so bloody long.]
After a terrible crisis is repaired that brought Equestria to the brink of armageddon, Twilight experiences a terrible loss, and the only one who can help her is Rainbow Dash. But in order to do that, she'll need to reveal an ancient family secret that can change the world.
She is part of a long line of ponies called 'Rainbows,' all with multicoloured hair. And they all have a special ability: They can communicate with the dead.
Inspired by Through Violet Eyes.
The setting, as well as most of the characters and original concepts, are the property of either Stephen Woodworth or Hasbro.
Suicide tag for one scene and one character in a minor flashback scene.
[CC BY-NC-SA] With Rainbow Hair is licensed under a Creative Commons Attribution-NonCommercial-ShareAlike 4.0 International License.
Chapters (8)