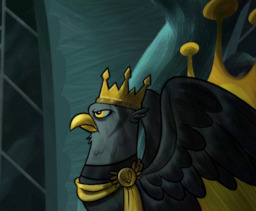 King Guto embarks on a perilous quest to seize an artifact which may hold the key to reclaiming Griffonstone's greatness. But when a mysterious hermit offers another choice, Guto faces his greatest test as King. Griffonstone's fate is in his talons.
---
Written for FanOfMostEverything's Imposing Sovereigns Contest II.
My Little Pony is owned by Hasbro and its affiliates.
Chapters (5)