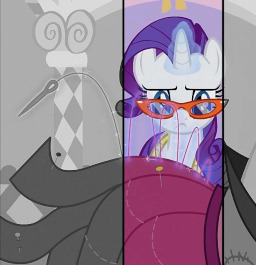 Ladies do not avoid their problems. If a lady finds herself facing down a lonely Hearts & Hooves Day, she should smile and gracefully accept her lot in life, patiently trusting that more enjoyable times are on the way.
A lady certainly doesn't chase a stranger down the dreary streets of Canterlot, even if that stranger does turn out to be the Madam Inspector of the Equestrian Games. Loneliness and creative distress are no excuse for wild behavior. A lady should know better.
But Rarity has never been just a lady.
---
---
Silver medalist in the July 2016 Writeoff!
Gold place winner says nice things about it!
Gosh I love exclamation points!
Hahahaaa!
Chapters (1)