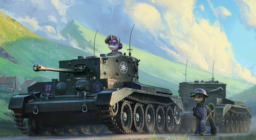 Source
To the north, Queen Chrysalis' empire grows strong with conquest, industry, and fearsome new weapons.
To the south, Equestria sleeps.
But not Miss Harshwhinny. She is not a soldier, owns no factories, did not even know what a tank was before seeing a picture. She can learn, though, and she can see what is coming. And as the day of invasion draws near, she races against time to build for Equestria a weapon with a fighting chance.
(An Equestria at War fic.)
Now with a dramatic reading by Skijaramaz!
Chapters (1)