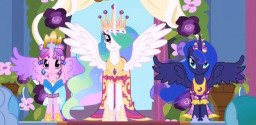 Source
The friendship between Clover the Clever, Smart Cookie, and Private Pansy led to the founding of Equestria. But what can they do in the face of a new and chaotic menace who calls himself Discord?
Two events from December 2011 led directly to this story: the revelation in "Hearth's Warming Eve" that the princesses were nowhere in sight when Equestria was founded, and the announcement of the existence of Cadance, the third Princess. Unfortunately, at the time, I was in the middle of several non-Pony related projects, but I wanted to get the idea written up before the Cadance episode aired and made canon-fodder out of the whole thing. So I carved ten days out of my schedule in the middle of January 2012 and wrote it up in two parts. It made Equestria Daily, but I've always felt it needed one more run through the word processor.
So I'm suspending my usual "write it, submit it, move on to the next" rule and giving the story another spin. I'm also, after a year and a half, giving it a sequel: "Calling You."
Chapters (2)