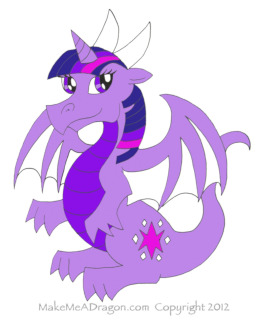 Spike's a young man who works at the local library. Twilight's the parrot-sized dragon who lives on top of the bookcase in his apartment.
Twilight's made it quite clear that she'd rather not talk about where she came from, so Spike doesn't ask anymore. But when five dimes from Twilight's hoard disappear, Spike and Twilight will have to confront her past in order to save their present and the whole world's future.
This is not an entry in Choices: A Species Swap Contest. It's actually an original short story I had published in a couple places nearly 30 years ago. But since I've been taking some of my pony stories, changing the pony stuff into non-pony stuff, and submitting them to the various SF magazines, I got to thinking: would it be possible to turn a non-pony story into a pony story?
Then I saw some entries for the abovementioned contest being posted and realized that the idea of a "species swap" was just what I was looking for. So let's see if it works!
And now it's got a reading on YouTube by Skijarama!
Chapters (1)