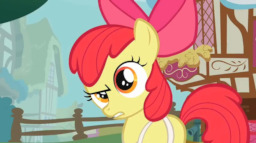 Applebloom is tired of being treated like a filly! She's a big pony, darn it! She wants the respect of her brother and sister, so she decides to take a drink of something definitely not meant for fillies. What happens afterward will convince her to never touch her brother's apple whisky ever again.
The following piece was written before season 3 and I'm not going back to change it, because this story flies in the face of canon anyway. Every dumb joke or tired brony-ism you can think of has been used in this fic for comedic purposes. Leave you offended-ness at the door, and enter, THE APPLE ZONE.
P.S. if you find I parodied a fic of yours within, it's because I liked it, not because I'm trying to make fun of it. This is meant to mock the fandom as a whole, as in, all of us. I'm not Blueshift, so it may not be that funny, but I regret nothing.
Chapters (1)