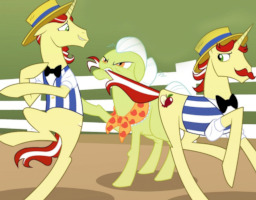 The world is about to end, but Granny Smith is havin' none of that now ya hear?
The Amulet of Bemethus has chosen Granny to save the world, and points her off in the right direction. Watch in amazement as Granny Smith puts the world in its place, and reminds it to call its mother every once and a while.
Armed with nothing more than her wit, and a devoted but skidish orderly who makes sure she takes her meds on time, she travels across Equestria giving everything a thorough lecture.
Chapters (2)