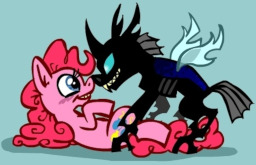 Source
This story is a sequel to Do...You?
---
Ever since Pinkie met Doomie on that fateful day in Canterlot, they've never been happier together.
Unfortunately, on that same day, the changelings managed to take over Equestria and force everypony to surrender.
But, despite this, they both find ways to talk.
Whether it's during a battle, late night patrols, or sneaking behind their enemy's lines, they always find a way to be together.
That is, until they finally get caught.
Author's other diary. "DEEEEEEEEEEEEEEEEEEEEEEEEAR Diary, there is not enough DoomiePie fanfics that take place in The Chrysalis Resistance timeline...that is all.
P.S. Same goes with art...
Chapters (6)