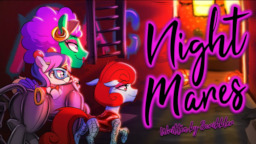 Source
Big ponies probably didn't get lost at all. Especially not in the city. Especially not at night.
Filly Bon-Bon often visits her grandmother in Manehattan. This year, she even gets to spend Nightmare Night there, and go trick-or-treating in the busiest city after Canterlot! Everything is going to be awesome!
That is, until she gets lost in the back alleys of the busiest city after Canterlot and meets a couple of working mares...
A fan-funded fiction. Based on the prompt 'Bon-Bon meets some hookers'. Not nearly as cracky or cloppy as it sounds.
Now with a full cast reading here.
Chapters (1)