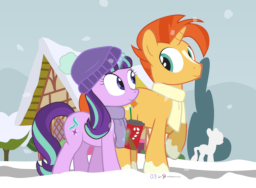 Source
Hearth's Warming Eve is meant to be spent with family and friends, new and old.
After months of beating back her old ways, Starlight wants her first Hearth's Warming with her friends to go off without a hitch. The presents are all wrapped and ready, Twilight's castle has been decorated, and a few visitors from Our Town came in by train to spend the holiday with them.
But Starlight isn't the only one who put thought into her gifts. After all, Hearth's Warming Eve was meant to be spent together with those she was closest to.
Even if she thought those bonds were lost many years ago.
Original artwork by dm29.
Preread by Jondor and Timaeus.
Chapters (1)