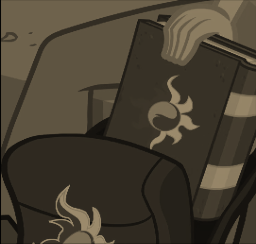 My name is Sunset Shimmer, and I wanted to speak to my newest friend, the human version of Princess Twilight Sparkle, about something which I've been keeping a closely guarded secret. Because of what happened at the climax of the Friendship Games, my heart is telling me to reveal what I've kept from everyone I know. Why choose her? Because she and I are really close... in more ways than one.
While I've used the magic journal to speak with Princess Twilight, there is the other journal... the non-magical one which I've been using since as far back as I can remember. You may think that what I wrote in this journal isn't anything serious, but when it contains secrets... personal secrets about my life from past to present...secret feelings about my friends... it becomes a completely different beast altogether.
I know Twilight will be there to help just like how I helped her, but will our friendship... all of my friendships be destroyed upon revealing these secrets to her?
Note: This story takes place after Friendship Games even though all three movies will be present in one form or another. Also, the Equestria Girls comics will be present as well with some having more scope than others. There is also some mild sexual moments between Sunset and Twilight. Edit: Added in the comics to the note.
Edit: Starting from Chapter 8 and onwards, this story now has an editor: icecreammac
Edit2: Replaced the 'human' category with the 'Equestria Girls' category.
Edit3: Second Place in the 2015 National Pony Novel Writing Month.
Chapters (76)