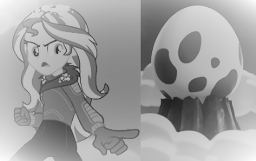 This story is a sequel to The Legend of Sunset Shimmer: Majora's Mask
---
It has been some time since Sunset Shimmer went on a journey to the world of 'The Legend of Zelda' but now she has been sent to the mysterious Koholint Island. It is an island in the middle of nowhere that houses a dark secret. Sunset cannot leave until she awakens the Wind Fish, but can she awaken the dreamer and if so, will she want to once she learns the truth of what the island really is?
Even with Princess Twilight Sparkle to guide her along, Koholint Island may seem unusual, but what lurks below the surface is the stuff of nightmares.
-----------------------------------------------------------------------
It's been some time since my last fanfiction around here. I hope that I've still got it. Anyway, this is the next entry in this series of mine if it should be called that. Many were expecting Twilight Princess, but that is a huge undertaking in and of itself, and since it's been so long since my last story, I wanted to go with something shorter. Don't expect this story to be an epic readthrough in terms of word count as I'm not trying to set a record here.
As always, each chapter will let you know which MLP/EQG character is portraying which Link's Awakening character.
Chapters (35)