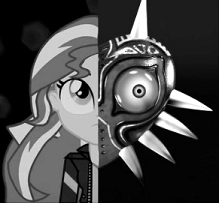 Source
This story is a sequel to The Legend of Sunset Shimmer: Ocarina of Time
---
September 20, 2017: This story got past 1,000,000 words. Never have I written anything this long before but I wanted to acknowledge such a thing given that it doesn't happen very often around here.
This story has been given a new description as of October 3, 2016. Also, please check the numerical notations afterwards to understand some concerns.
Sunset Shimmer believed that it was all over. Her ordeal in the land of Hyrule was still fresh on her mind, and the Mark of the Triforce reminded her that everything was real. No one else recalled what happened and think she has lost her mind, yet she knew better. A nightmare had been plaguing her since then, one that her friends couldn't help her overcome. How could they when they didn't believe her?
In her nightmare... a world is on the verge of ruin. What is the meaning behind this nightmare? Sunset isn't sure but feels that her ordeal wasn't over yet. Two weeks after Her Highness came through the portal, Canterlot High and Crystal Prep celebrate after what happened during the Friendship Games. Despite the latter not in the best of spirits, things were going fine until an old enemy emerges, an enemy whom Sunset wished she could forget.
Ganondorf, the Demon King transforms the world that Sunset calls home and everyone in it into the world of Termina, the very land from her nightmare, a parallel world to Hyrule. Once again, Sunset must endure personal torment as she struggles against something she knew would happen. She has only three days to prevent this new world from being destroyed, yet she doesn't have to go through the experience alone. Her friend and mentor, Princess Twilight Sparkle, is by her side, trapped in the same nightmare as her student. Many friends from their worlds are in Termina under new identities, and the Demon King lurks in the shadows, waiting for the time to test Sunset once again.
1. Due to the release of Equestria Girls: Legend of Everfree, I might as well mention this. Characters, events, magic, and so on will not be present in this story. This was started long before the movie was first announced, and will remain that way. However, bonus chapters are exempt from this.

2. The Prologue through to Chapter 13 are in my old writing style and won't be changed. From Chapter 14 and onwards, my new style will be featured.

3. The Prologue has been retconned slightly. I now have taken the events of Friendship Games and implemented them into the story. As such, this story takes places two weeks after Princess Twilight came through the mirror, but before Sci-Twi's slumber party and Camp Everfree.
Chapters (79)