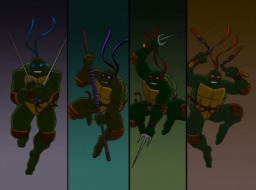 This story is a sequel to Equestria Ninja Girls of Moo Mesa
---
The Rainbooms, the Turtles, and their allies are back again. And this time, they're going on a inter-dimensional trip to another New York where they cross paths with another team of turtles. Will the turtle teams be able to work well together when familiar threats emerge and return or will they have finally met their matches?
TeenageMutantNinjaTurtles2012xEquestriaGirlsxMyLittlePonyFriendshipisMagicxTeenageMutantNinjaTurtles2003 crossover.
The timeline in the 2003 universe takes place after the events of the Lost Episodes. Meaning the events of Fast Forward, Back to the Sewer, and Turtles Forever have not happened.
I don't wanna have to deal with or listen to so many of you who pestered and annoyed me with constantly asking me when my next one of this series would be. I took that break to get away from it, but clearly some of you didn't take the hint like others did. Well, hope you're happy I launched this. But don't ask me when I'll update it because that's up to me. I don't care if you're impatient or restless, you just have to deal. Thank you.
Chapters (22)