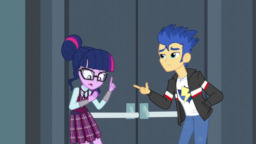 This story is a sequel to I Just Wanted to Say, I'm Sorry
---
Spoilers to those who haven't seen EG: Friendship Games yet!
It's been several months since the last time Flash had seen Twilight after he successfully apologized to her for his behavior during The Battle of the Bands! They made a promise to meet again the next time she visits.
Now it was time for the Friendship Games and he was pumped to join in to compete against their longtime rivals, The Shadowbolts from Crystal Prep! By chance, he met with Twilight again at the hallway. But Twilight acted like she never met him before in her life. Something seems off about Twilight.
And Flash was determined to find out!
---
This story takes place during the events of The Friendship Games from Flash's point of view.
Constructive criticism welcomed!
Chapters (4)