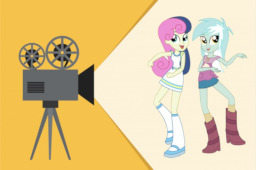 Canterlot High's annual student film festival is fast approaching, and the submissions are now under review. But ultimate writer-director-star-girlfriend team Lyra and Bon-Bon are confident they've made something spectacular. It's innovative, it's bold, it's experimental, it's inspired, it's confident, it's... rejected???
Okay, maybe it was a little too out there for the festival... and perhaps a bit too risqué as well. But they can still salvage this. Right?
---
Written for Bicyclette's LyraBon contest. (Read the other entries here!) Ties in with the Bean's Writing Group prompt "A Chess Game."
Pre-read by The Sleepless Beholder and Shirlendra. Cover art by me using stock images.
Sex tag for mild sexual references only.
Featured on 9/29/22-9/30/22!
Chapters (1)