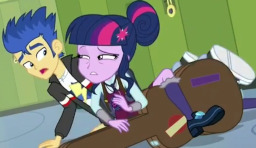 Once again, Flash Sentry walked into Twilight Sparkle. However, this time, she was a different Twilight than the one to whom he was accustomed. Sadly, no one thought to tell him that. Now he needs to make it up to this Twilight... assuming he can find her.
And get her to listen to him.
And just how does all of this work, exactly?
(Note: Sunset also makes a significant appearance, but I hit the character tag cap.)
Chapters (1)