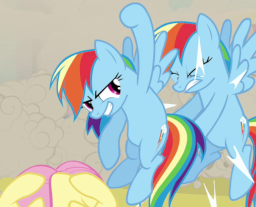 This story is a sequel to Would It Matter If I Was?
---
After the Canterlot Wedding, Fluttershy asked Twilight a difficult question. Now, Rainbow Dash flies in to talk some sense into her and to shake things up with a question of her own. On top of that, there's some sort of conspiracy going on. What are these ponies up to?
---
Author's Note: While I normally prefer to keep my writing self-contained instead of expanding upon another author's work, I was inspired to write this after seeing the context prompt here. Really, so many things could be changed just by tweaking the circumstances that it would have been a shame not to do so. If there's anything I've learned as a writer, it's to chase those wild, untamed ideas and not let them get away. So yes, this story is a sequel to GaPJaxie's work, and picks up after that one cuts off. Please read it first.
If you're interested in the concept, also check out the Parody, the Rage Review, and the (ill-fated) Rebuttal.
Chapters (1)