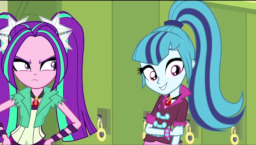 Source
When Sonata Dusk said she had a boyfriend, Aria Blaze expected to be able to tell her how stupid he was and watch as she ran off crying. However, after meeting him, Aria finds herself crushing on him. Thus, she resolves to get them to break up and take Dusk Shine for her own!
Yeah. That's not going to happen.
---
A story about why trying to steal someone else's boyfriend is a really bad idea.
Featuring two normal characters and one R63 counterpart. No point for guessing who it is. (DuskDusk OTP!)
Chapters (1)