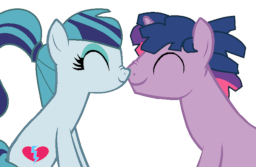 Source
When Sonata Dusk tried to return to her home after the Battle Of The Bands, she ended up in the wrong version of Equestria. However, while she didn't find her home, she found somepony willing to help her.
Ever since then, Sonata has been grateful for Dusk Shine's help. And slowly, her feelings for the prince who gave her so much have become deeper and more meaningful than she could ever have imagined. Thus, when a special day for couples to express their love for each other comes around, she resolves to finally declare her feelings for him.
The answer he gives her, however, may surprise her.
---
Written for Equestria Daily's Super Happy Hearts and Hooves Lovefest Fanfic Event. Coverart by BerryPunchrules (AKA Tennis Match Fan)
DuskDusk OTP!
Chapters (1)