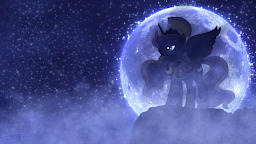 Source
When Luna becomes the unwitting test subject of an ancient spell she discovered, she gets more than she bargained for.
Now a male alicorn named Lucian, he is forced to wait for several months before he can go back to being the mare he once was. With the help of Twilight Sparkle, however, he realizes that his accidental transformation is not the curse he had believed it to be. Thanks to his new identity, he is able to move into Ponyville without being recognized, and gets to make friends for the first time in centuries, learning many important lessons along the way.
At the same time, however, Lucian must deal with his own long-forgotten personal demons; what can he do when his past begins to catch up to him? Can he protect those closest to him? And more importantly, can he even protect himself?
The answers, perhaps, may lie with his sister's greatest pupil... who may come to be far more than just a friend to him.
Note to readers: This story takes place between season 2 and season 3. Therefore, inconsistencies with season 3 canon may ocasionally occur. Consider it an "Alternate season 3," if you wish.
Cover by jamey4
Chapters (20)