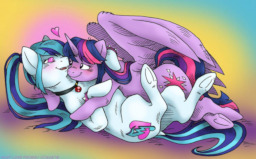 Source
Sonata Dusk separated from the other Dazzlings and ended up in Equestria herself. Twilight found her and managed to not only reform her (somewhat) but has fallen in love with her as well. Now Twilight deals with a marefriend who is a bit like Pinkie Pie but keeps suggesting they take over Equestria together.
I did say that she was reformed somewhat, didn't I?
Inspired by a Date At Dusk by keaton-furman-prower.
Cover image is COM: Got a Case of Fishy Love! By MustLoveFrogs, used with permission.
Chapters (1)